Region India FSSC 22000 Webinar
Foundation FSSC invites all business owners in the consumer goods industry and food safety professionals to join us for the upcoming online 2021 Region India Focus Event for FSSC 22000.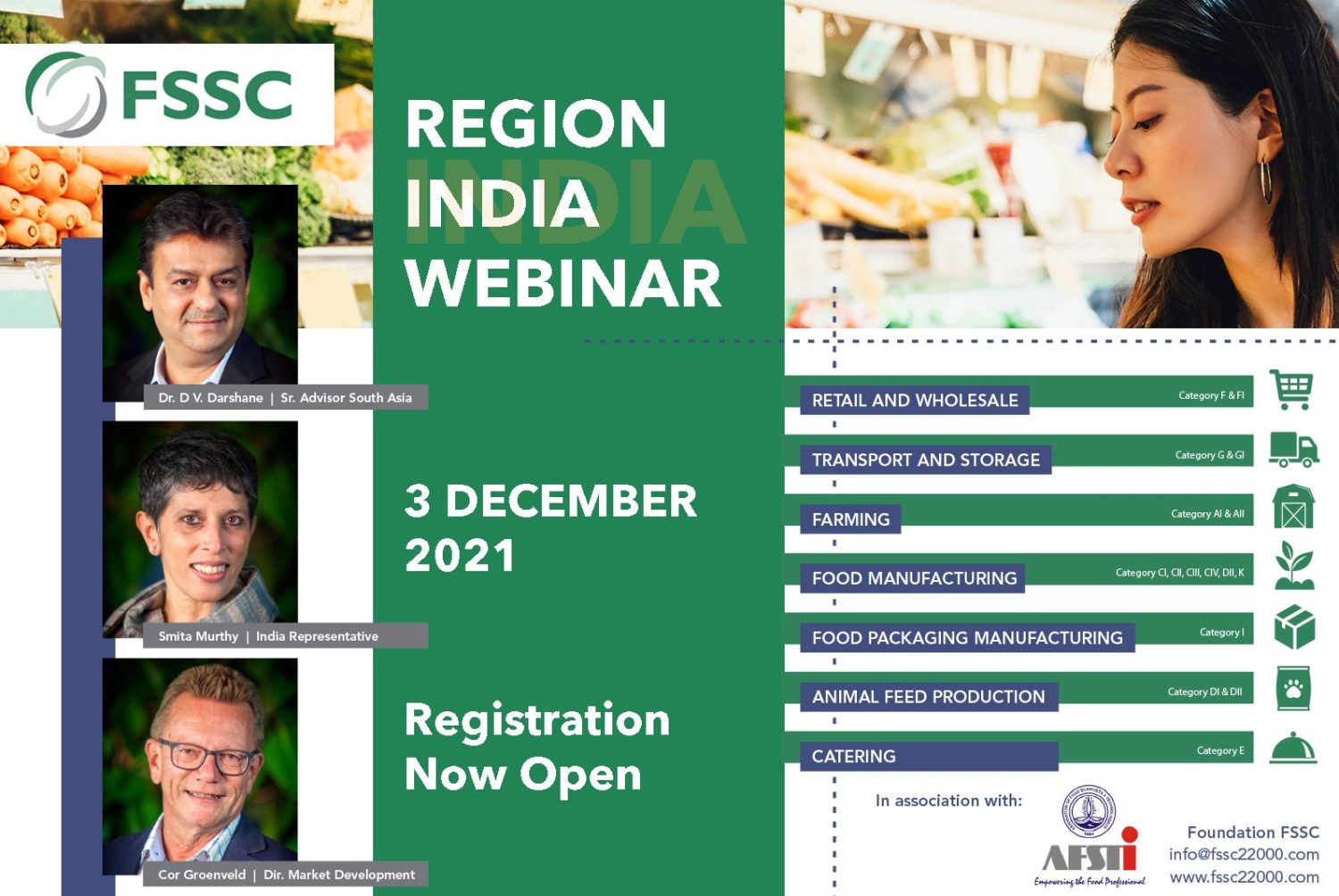 On Friday 3 December from 1pm (CET), our speakers will cover aspects of both the GFSI recognized FSSC 22000 Certification and our globally available grassroots Development Program. Two perfect avenues for those who are ready to take their Food Safety Management System to the next level.
Besides an update on FSSC 22000 and the Indian market, FSSC Market Development Director Cor Groenveld and Senior South Asia Advisor D.V. Darshane, the following speakers will join and share their story:
Subhapradha Nishtala, Director ITCFSAN
Alumnus of CFTRI Mysore, her experience includes mix of audit and training delivery, frontline factory operations, quality assurance and compliance.
President of the Association of Food Science Technologists, Mumbai Chapter, and has worked with state and central FSSAI departments in competence development to the changed regulations. She has been conferred with numerous awards, including the FSSAI AFST Food Safety Professional of the Year 2019.
Nilesh Shah, Associate Director Quality at Abbott Healthcare – Nutrition Div.
Over 20 years of leadership experience in plant operations management. Certified Six Sigma Green Belt Holder and a certified Safety and Quality Auditor.
Sanjay Das, Garden Manager Makaibari Tea
Managing the Makaibari Tea plantation since 2014 and responsible for harvest and production of tea. He is involved in the certification of organic, food safety and social standards. Recently he has been instrumental in managing assessment to the FSSC Development Program
Rupesh Khiste, Head R&D and Projects at Sahyadri Farmers Producer Co. Ltd.
Post graduate in process and food engineering with over 22 years experience. He has worked extensively in areas of fruit and vegetable processing, cold chain , RTE Foods and spice extraction.
The online event will be hosted by Smita Murthy, India Representative for FSSC. A Q&A session is included.