FSSC 22000 Certification helps keep Carry Transit moving
Carry Transit, the food-grade division of Superior Bulk Logistics, was the world's first food-grade motor carrier to attain the FSSC 22000 certification for Transport and Storage across all its 39 U.S. terminals and railyards.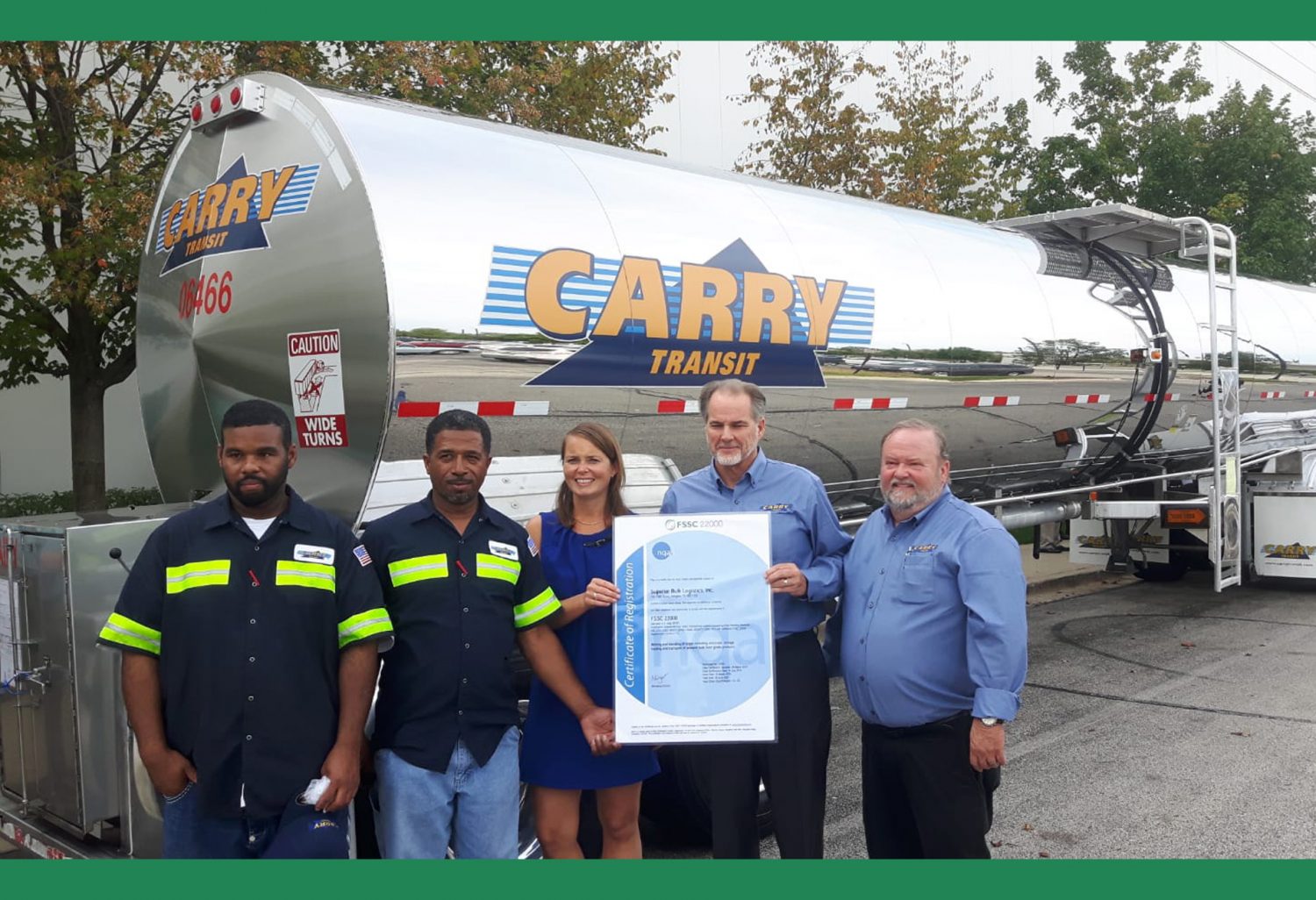 Since 1979, Carry Transit has operated primarily as a food-grade, kosher, and U.S. pharmaceutical (USP) carrier, developing a reputation for service excellence and standard-setting innovation. Specializing in bulk logistic solutions for the food industry, Carry Transit is committed to safety, protection of the environment, and the security of their equipment and cargo.
To Carry Transit, "Everything Matters." Therefore, it was logical to pursue their goal of achieving certification to a key scheme standard in the food industry for their depots; FSSC 22000 Certification for Transport and Storage. While operating one of the largest fleets of stainless-steel food grade trailers in North America, Carry achieved certification in 2019.
We delivered over 2.9 billion pounds of products to Canada, Mexico, and 40 states while driving over 12 million miles in 2019.
As the liquid and dry bulk distribution partner to some of the world's leading food manufacturers, Carry Transit has always focused on achieving the highest food safety standards. In 2013, they received their first FSSC 22000 certificate for the processing component of their logistics service (melting and blending of sugar with storage and transport), and they were one of the first carriers to be either ISO 22000 or FSSC 22000 certified.
Since then, they have worked hard to upgrade all their facilities to the GFSI recognized FSSC 22000 certification standard. Once the Storage and Transport PRP (NEN/ NTA 8059) became available with technical specifications to support those established by ISO 22000, Carry Transit was pleased to become certified. They were confident in the knowledge that "they now consistently exceed their customers' high-performance expectations."
"FSSC 22000 is at the core of our business. It helps us protect the customer."
Jim Blackmon Chicago November 2019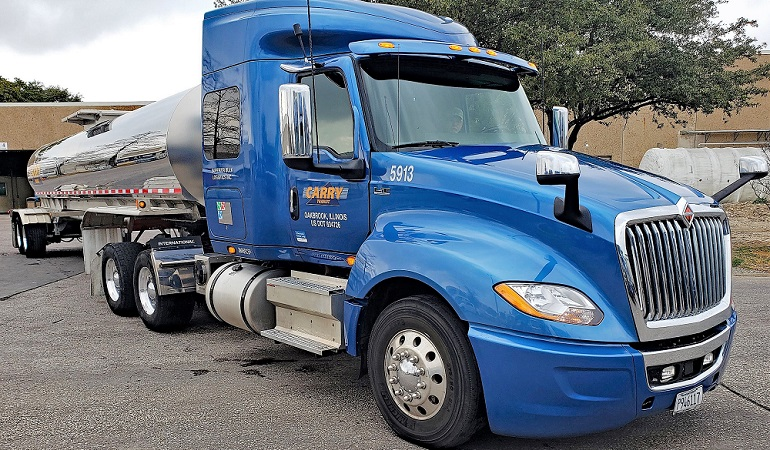 Since attaining FSSC 22000 certification, Carry Transit has witnessed a gratifying increase in their industry-leading Customer Service and Satisfaction Rating and a corresponding growth in customer requests for bulk transfer. While the increase in customer satisfaction rating, also evidenced by year-on-year reductions of customer complaints, might be anticipated following FSSC 22000 certification, added benefits of establishing the program has been a significant reduction in missed or refused deliveries, resulting in a substantial decrease in loss through waste, and the highest levels of driver retention.
Now-retired group President, Mr. Jim Blackmon, stated during his leaving address that FSSC 22000 had been "instrumental in the growth of the organization and the building of the business."
Mr. Blackmon was honored at the 2019 FSSC 22000 Focus Day in Chicago, where formal certificates were presented to him by FSSC Managing Director Cornelie Glerum on behalf of FSSC 22000. He explained that the knowledge that Carry Transit had achieved such a prestigious award on his watch was the proudest moment of his 19 years with the company.
Continuing through the Pandemic 
When Jim Blackmon accepted the certificates in November of 2019, he knew that the food safety program would continue to drive excellence across his organization. However, he could not have foreseen how his legacy was to help sustain his teams, and the business, through the untoward effects of the pending Coronavirus pandemic.
As one terminal after another "locked down" in March 2020, the company continued to operate under pre-pandemic rules, with enhanced driver protection in place.
As part of a pandemic policy required risk assessment, FSSC 22000 partner and certification body, NQA was pleased to see how the implementation of the FSSC 22000 management system was providing the resilience to allow the trucks to continue rolling safely and the company to navigate the extreme circumstances induced by COVID -19.
Despite having terminals impacted by a reduced workforce, Carry Transit demonstrated the flexibility to keep the transit system going amid the growing pressures of discordant swings in supply and demand. Drivers were able to ramp up mill deliveries safely to meet a need for flour that increased sales by two thousand percent due to a housebound population taking solace in baking.
Throughout these pressures, the company believes that the procedures and processes they have in place helped them ensure they meet both the supply and customer expectations.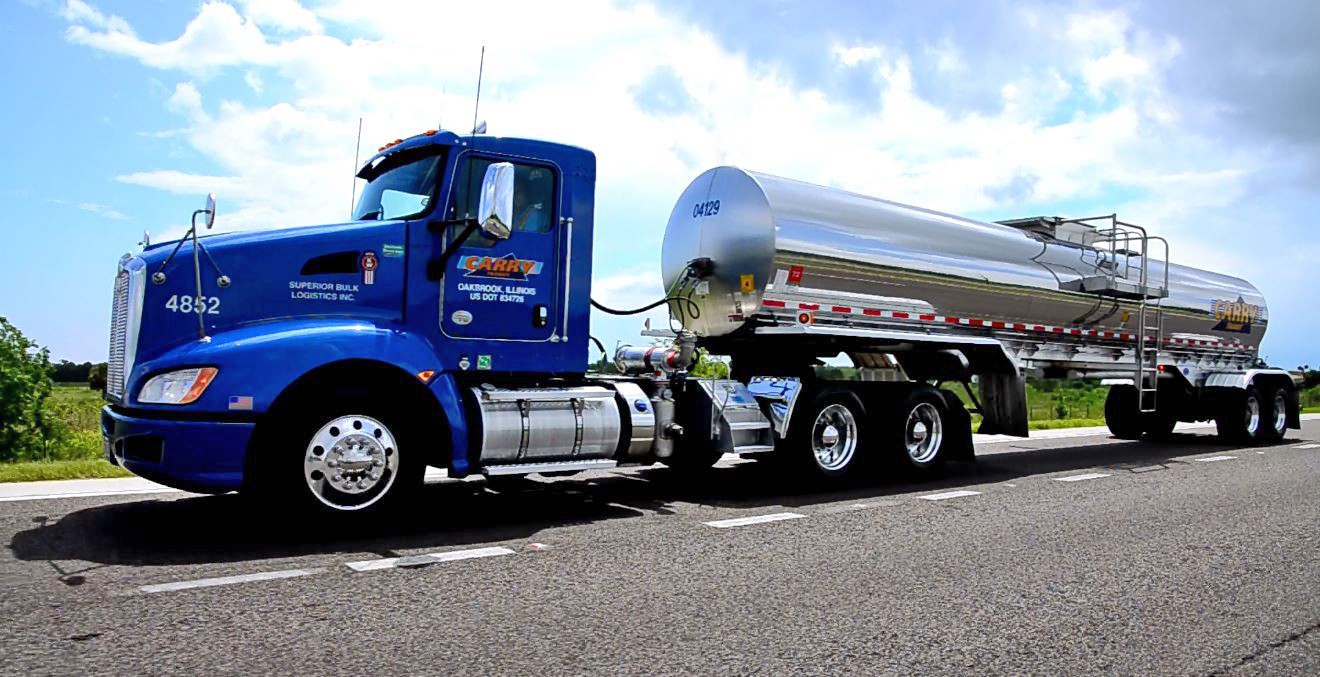 "It is interesting how, during this pandemic, on-site customer audits have stopped, but the demand for copies of our FSSC 22000 certificates has increased. It is a way that customers can maintain confidence that despite the unusual circumstances, their products will be delivered in a safe, fast, efficient way, with minimal contact, and know that their load will be 100% secure in transit due to the FSMS processes."
Steve Ratcliffe, Director of Food Safety and Quality for Carry Transit
A New Normal
As we accept the "new normal" of continued isolation and social distancing that COVID-19 forces on us, Carry Transit remains invested in both drivers and equipment to ensure safety and load integrity. The FSMS procedures and processes of FSSC 22000 guard customers' products and ensure that their seal integrity controls are the tightest in the industry.
During a recent interview, a Carry Transit driver volunteered that "it used to be a lack of fuel that would stop a delivery, but now everything stops if a seal is missing or there is evidence of any tampering."
Seals are an essential tool to protect load integrity. They are often left up to a Carry Transit driver, who has been trained on the FSSC 22000 requirements to prioritize load safety and integrity. Therefore, the driver ends up advising his customer on the do's and don'ts of the fitting, recordings, and removal of seals and training them on the importance of trailer seal integrity.
It is also the driver that has been essential throughout the pandemic to the delivery of safe food. With the help of FSSC 22000, a driver will maintain the safety of the supply chain, the confidence of his customer, and of course, keep on trucking!
Click here to read more about FSSC 22000 in the sector Transport & Storage.