First FSSC 24000 Focus Event for India
Foundation FSSC held its first-ever Focus Event for the FSSC 24000 Scheme for Social Sustainability in India last week.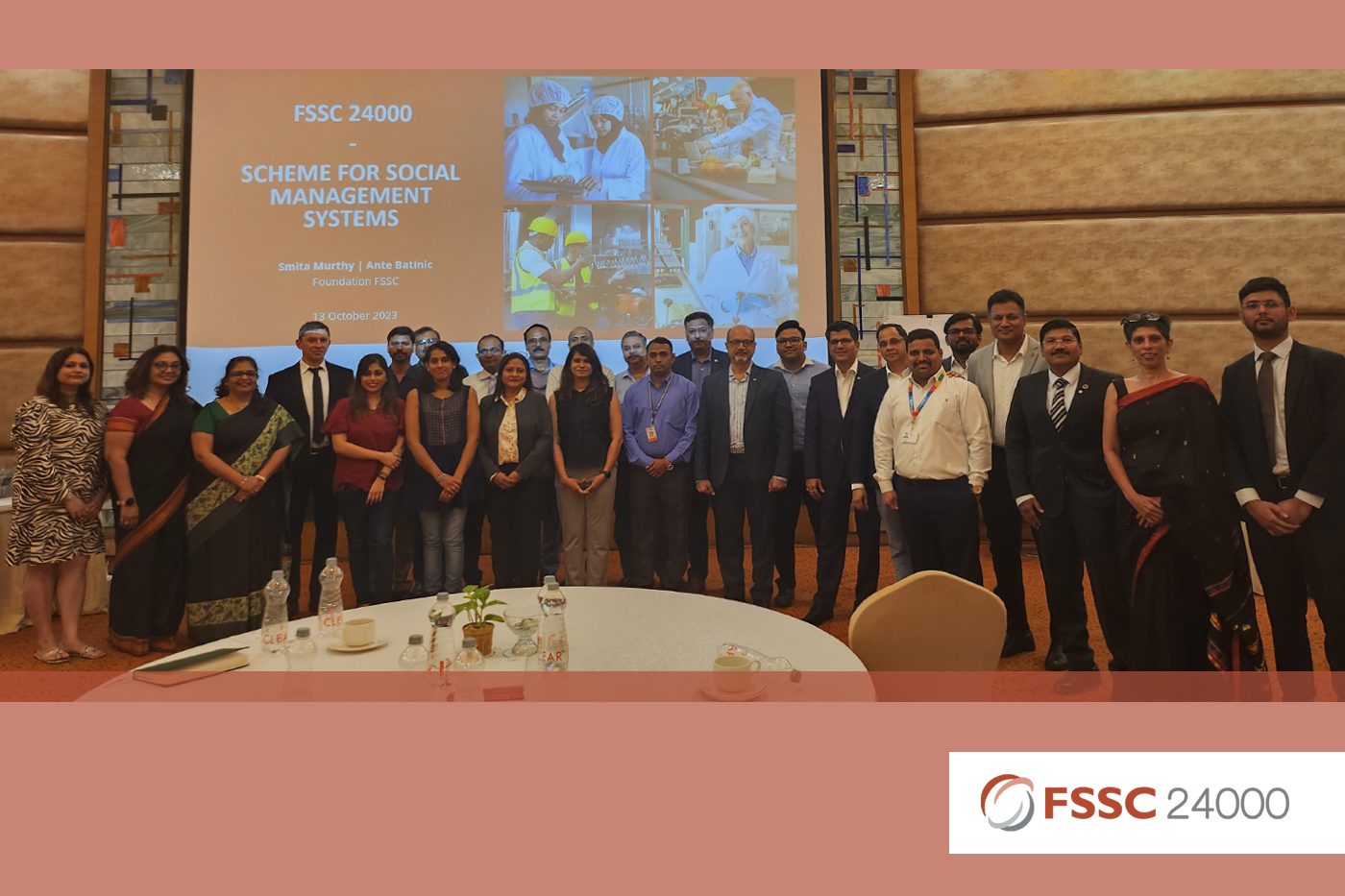 On Friday, 13 October, 27 participants from major CBs across the country joined FSSC India Representative Smita Murthy and Ante Batinic, FSSC Technical Manager Social Sustainability, at the Meluha Hotel Mumbai to learn and share experiences in driving social sustainability for the consumer goods industry.
The day's focus was the FSSC 24000 Scheme structure and auditor qualification requirements during an interactive session with a lot of discussion on various technical aspects. The engagement reflected the growing interest in social management system schemes nationwide.
About Social Sustainability
Organizations can easily overlook social sustainability and its importance within the supply chain. While the emphasis is frequently placed on economics, agriculture, and environmental sustainability, the social component is often the most critical first step. It is the process by which workplaces develop and engage the overall well-being of their people, creating growth, innovation, and new markets.
Social sustainability is about identifying and managing business impacts, both positive and negative, on people.
Definition from the United Nations Global Compact
FSSC 24000 and the Indian Market
Amidst the immense pressure of development and accelerated urbanization faced by Indian cities, social development within the consumer goods industry has largely been overlooked.
However, as one of the largest international exporters of textiles and leather goods, India is a pivotal country where social audits are especially relevant and significantly impact the global supply chain. It is still possible for companies to start prioritizing the rising inequalities and focus on using social sustainability as the enabling platform for inclusive economic growth.
FSSC 24000 is the audit and certification Scheme for Social Management Systems that aligns with the ISO Management System approach and the ISO Harmonized Structure. It incorporates the internationally recognized, independent standard PAS 24000: Specification for Social Management Systems, including its Annex A, which defines minimum requirements to ensure a base level of social performance. FSSC 24000 specific requirements ensure consistency and integrity and provide governance and management of the Scheme. The scope is on processing and manufacturing sectors (food and non-food) and their associated supply bases.
Foundation FSSC looks forward to a follow-up event in India for industry partners, with another in-person conference scheduled for early 2024.
India is a big exporter of textiles and leather. Social compliance is a key component of exporting to Europe or the US. We wanted to introduce FSSC 24000 to our Certification Body Partners and have their insights and inputs on the Indian market and how best to position our Scheme here. This event helped us connect with the CBs and give the same message to all partners on FSSC 24000.
Smita Murthy – FSSC India Representative